Emitting a soft light downward, this wall-mounted fixture is elegant and unobtrusive. Bulb included.
This slim, ADA-compliant fixture has a shorter backplate so it sits closer to the wall. We also offer a standard, hardwired version.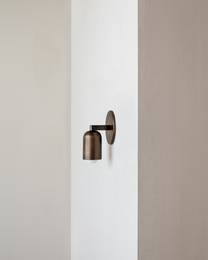 The Spot Series
Versatile, cute, and easy. Some are fixed in place, and some
 have movable shades for adjustable, hyper-directional light. Every single component passes through the hands of our team for painting, finishing, or polishing. Assembled carefully, they are all one-of-a-kind.
See all 5 Fixtures
Details
Overall Dimensions: 7 ½ in H x 4 in D
Materials: Steel, Brass Buy Metal Finish Samples
Bulb: E12 / 110 V / 3.0 W / 180 lm / 2700 K Buy Replacement Bulbs
Certifications: UL Listed, Damp Rated, ADA Compliant
Downloads
Key Features
Wall Sconce
Fixture is mounted directly onto a wall, and typically hard-wired.
Accent Light
Soft but focused light, directed upwards or downwards.
Dimmable
Lighting output can be modulated with an external dimmer.
Damp Rated
Designed to withstand moisture accumulation but not direct contact with water; can be installed in bathrooms.
ADA Compliant
Meets the requirements outlined in the Americans with Disabilities Act of 1990.
UL Listed
Authorized and rated by Underwriters Laboratories (UL), the American Standard for all things electric ⚡️