We recommend using floor lamps to offset harsh shadows from overhead lighting. Wired with a long-ass cord so you can avoid 🚫 extension 🙅‍♀️ cords ⛔. Bulb included.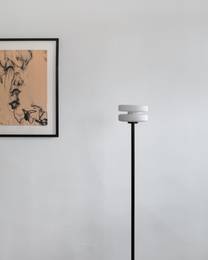 The Puck Series
Puck is a visual vocabulary; if each of the components are letters, the individual fixtures are neighboring words. By stacking two identical shapes, we observed how easily new configurations can suggest themselves. Now the question is, what if we stacked 20?
See all 7 Fixtures
Details
Overall Dimensions: 6 ⅞ in Diameter x 66 ¼ in H
Materials: Glass, Steel Buy Metal Finish Samples
Bulb: GU24 / 110 V / 5.0 W / 550 lm / 2700 K Buy Replacement Bulbs
Certifications: UL Listed
Downloads
Key Features
Floor Lamp
This fixture supports itself, needing no walls or furniture for stability.
Ambient Light
Overall illumination, uniformly distributed in all directions.
Painted Metal
Wet-coated, achieved by applying liquid paint to solid steel.
Inline Switch
A switch is placed on the cord, 2 feet from the plug.
Customizable
Designed to be adapted; select your color, finish, size, and more.
UL Listed
Authorized and rated by Underwriters Laboratories (UL), the American Standard for all things electric ⚡️