A table lamp tall enough that it casts a nice radius of ambient light, but not so bright that it's intrusive. Each diffuser is mold-blown, and while precise, they are all unique. Bulb included.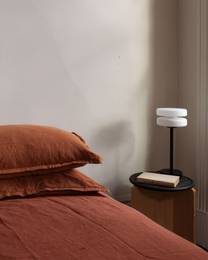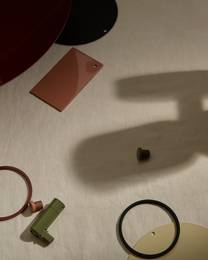 The Puck Series
Puck is a visual vocabulary; if each of the components are letters, the individual fixtures are neighboring words. By stacking two identical shapes, we observed how easily new configurations can suggest themselves. Now the question is, what if we stacked 20?
See all 7 Fixtures
Details
Overall Dimensions: 6 ⅞ in Diameter x 15 ½ in H
Materials: Glass, Steel Buy Metal Finish Samples
Bulb: GU24 / 110 V / 5.0 W / 550 lm / 2700 K Buy Replacement Bulbs
Certifications: UL Listed
Downloads
Key Features
Table Lamp
Sturdy and portable, often the easiest lighting solution.
Ambient Light
Overall illumination, uniformly distributed in all directions.
Painted Metal
Wet-coated, achieved by applying liquid paint to solid steel.
Integrated Dimmer
A dimmer switch is built into the light fixture.
Customizable
Designed to be adapted; select your color, finish, size, and more.
UL Listed
Authorized and rated by Underwriters Laboratories (UL), the American Standard for all things electric ⚡️