Reverse Disc Puck Pendant
Cute, Cute, CUTE. And customizable, in size, color, and finish—just email us. Bulb included.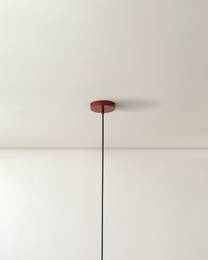 The Disc Series
Each shade is made-to-order and blown at Urban Glass in Brooklyn. Since Mother Nature is opinionated, no two are exactly the same. The diffuser-and-shade system allows for endless customization; if you can imagine it, we'll try it.
See all 8 Fixtures
Details
Overall Dimensions: 10 in Diameter
Materials: Glass, Steel, Brass Buy Glass Finish Samples Buy Metal Finish Samples Buy Brass Finish Samples
Bulb: E12 / 110 V / 5.0 W / 550 lm / 2700 K Buy Replacement Bulbs
Certifications: UL Listed, Damp Rated
Downloads
Key Features
Pendant
Fixture is hardwired and hangs from the ceiling, suspended by a cord or rod.

Ambient Light
Overall illumination, uniformly distributed in all directions.
Mouth-blown Glass
Artisans use breath to inflate and shape molten glass.
Made by Hand
Made from natural materials by hand; may exhibit differences in tone and finish.
Dimmable
Lighting output can be modulated with an external dimmer.
UL Listed
Authorized and rated by Underwriters Laboratories (UL), the American Standard for all things electric ⚡️