A simple, versatile pendant that pairs an angular steel shade with a spherical, hand-blown glass diffuser. Available in a range of finishes, it's designed to suit any surrounding, from quiet breakfast nook to bustling cafe.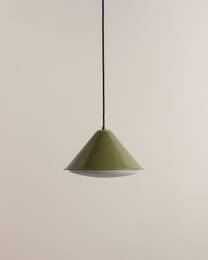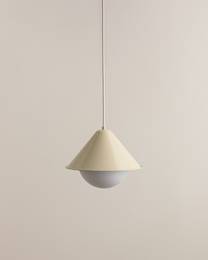 The Tipi Series
Tipi's shape may seem obvious, but it taps into an insight that humans have had forever: cone structures make clever, responsible use of their materials. Shades are accents but also homes for light. And "
thípi
," from the Lakota language, means "they dwell."
See all 4 Fixtures
Details
Overall Dimensions: 12 in D x 8 ft cord
Materials: Steel, glass Buy Metal Finish Samples
Bulb: E12 / 120 V / 8.5 W / 850 lm / 2700 K / dimmable Buy Replacement Bulbs
Certifications: Damp Rated, UL Listed
Downloads
Key Features
Pendant
Fixture is hardwired and hangs from the ceiling, suspended by a cord or rod.

Ambient Light
Overall illumination, uniformly distributed in all directions.
Painted Metal
Wet-coated, achieved by applying liquid paint to solid steel.
Dimmable
Lighting output can be modulated with an external dimmer.
Damp Rated
Designed to withstand moisture accumulation but not direct contact with water; can be installed in bathrooms.
UL Listed
Authorized and rated by Underwriters Laboratories (UL), the American Standard for all things electric ⚡️