An otherworldly pendant whose hovering central form hints at the deep unknown. Made by manually draping clay slabs over press molds, each shade pairs a uniform shape with a raw, textured surface that's innately one-of-a-kind.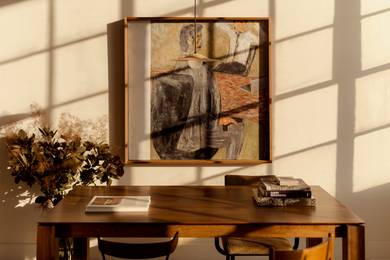 The Handmade Series
Hand-built clay has a way of looking familiar and mysterious at the same time, which is why we keep adding new shapes to this series. Shades are draped over press molds, slip-cast, or hand-pinched to create distinctive, organic forms that add character to any space.
See all 13 Fixtures
Details
Overall Dimensions: 13 ⅜ in. D, 8 ft. cord
Materials: Ceramic, glass, steel or brass Buy Ceramic Finish Samples
Bulb: G9 / 120 V / 4.5 W / 450 lm / 2700 K / dimmable Buy Replacement Bulbs
Certifications: UL Listed, Damp Rated
Downloads
Key Features
Pendant
Fixture is hardwired and hangs from the ceiling, suspended by a cord or rod.

Ambient Light
Overall illumination, uniformly distributed in all directions.
Hump-molded Ceramic
A slab of clay is draped by hand over a convex form.
Made by Hand
Made from natural materials by hand; may exhibit differences in tone and finish.
Dimmable
Lighting output can be modulated with an external dimmer.
UL Listed
Authorized and rated by Underwriters Laboratories (UL), the American Standard for all things electric ⚡️