A pendant whose purposeful design renders solid clay seemingly weightless. Suspended from a metal rod with a self-leveling canopy, it's made to order in a range of sizes and finishes. Each shade slip-cast by hand and one-of-a-kind.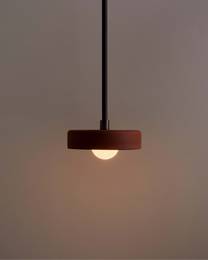 The Handmade Series
Hand-built clay has a way of looking familiar and mysterious at the same time, which is why we keep adding new shapes to this series. Shades are draped over press molds, slip-cast, or hand-pinched to create distinctive, organic forms that add character to any space.
See all 13 Fixtures
Details
Overall Dimensions: 10 in Diameter
Materials: Ceramic, Steel, Brass, Glass Buy Ceramic Finish Samples Buy Metal Finish Samples Buy Brass Finish Samples
Bulb: GU24 / 110 V / 5.0 W / 550 lm / 2700 K / dimmable Buy Replacement Bulbs
Certifications: UL Listed, Damp Rated
Downloads
Key Features
Pendant
Fixture is hardwired and hangs from the ceiling, suspended by a cord or rod.

Ambient Light
Overall illumination, uniformly distributed in all directions.
Made by Hand
Made from natural materials by hand; may exhibit differences in tone and finish.
Hump-molded Ceramic
A slab of clay is draped by hand over a convex form.
Dimmable
Lighting output can be modulated with an external dimmer.
UL Listed
Authorized and rated by Underwriters Laboratories (UL), the American Standard for all things electric ⚡️