A statuesque floor lamp that brings statement-making simplicity to new heights. Helena combines simple geometric forms with meticulous sculptural handiwork, featuring a totemic, coil-built clay base and adjoining shade that conceals all hardware and bulbs. Its crowning jewel: A solid brass ball that doubles as a dimmer switch.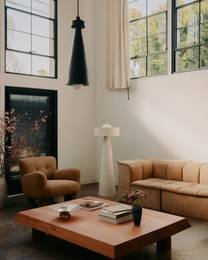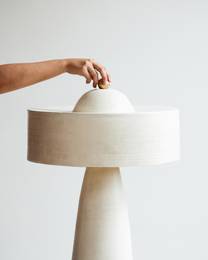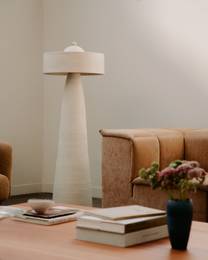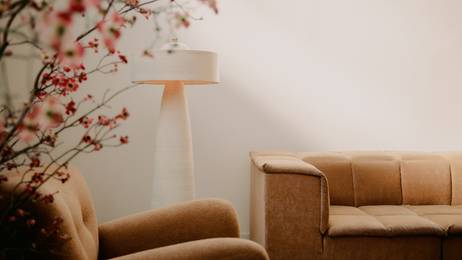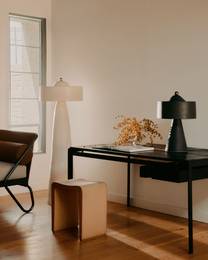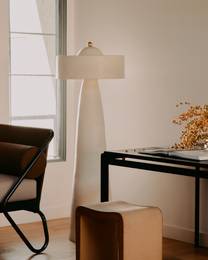 The Terra Collection
A collaboration with ceramicist Danny Kaplan, the Terra series reflects our studios' shared commitment to pairing beauty with utility; tradition with innovation; Danny's organic forms with our signature systems-driven simplicity. Together, we experimented with structure and scale
to create pieces that
embody an ongoing dialogue between artist and material. Our goal: to make the connection between clay and light appear innate, as effortless as friendly conversation.
See all 15 Fixtures
Details
Overall Dimensions: 18 in Diameter x 56 in H
Materials: Ceramic, Brass Buy Terra Ceramic Finish Samples
Bulb: 7x E12 / 110 V / 4.0 W / 220 lm / 2200 - 2800K Buy Replacement Bulbs
Certifications: UL Listed, Damp Rated
Downloads
Key Features
Accent Light
Soft but focused light, directed upwards or downwards.
Wheel-thrown Ceramic
Clay is shaped by hand on a rotating potter's wheel.
Floor Lamp
This fixture supports itself, needing no walls or furniture for stability.
Integrated Dimmer
A dimmer switch is built into the light fixture.
Accent Light
Soft but focused light, directed upwards or downwards.
Made by Hand
Made from natural materials by hand; may exhibit differences in tone and finish.