A stately tabletop companion to our larger Helena Floor Lamp. Both pieces combine simple geometric forms with meticulous sculptural handiwork, featuring a totemic, coil-built clay base and an adjoining shade that conceals all hardware and bulbs. Its crowning jewel: A solid brass ball that doubles as a dimmer switch.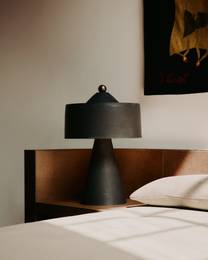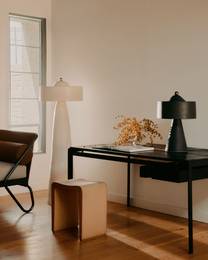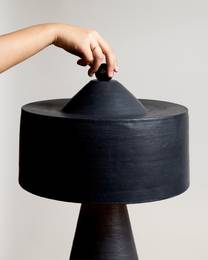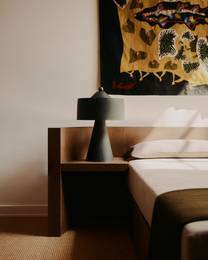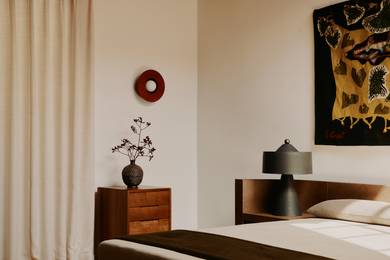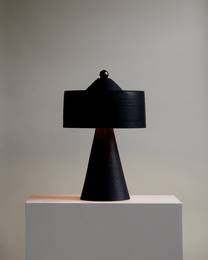 The Terra Collection
A collaboration with ceramicist Danny Kaplan, the Terra series reflects our studios' shared commitment to pairing beauty with utility; tradition with innovation; Danny's organic forms with our signature systems-driven simplicity. Together, we experimented with structure and scale
to create pieces that
embody an ongoing dialogue between artist and material. Our goal: to make the connection between clay and light appear innate, as effortless as friendly conversation.
See all 15 Fixtures
Details
Overall Dimensions: 13 in Diameter x 22 in H
Materials: Ceramic, Brass Buy Terra Ceramic Finish Samples Buy Brass Finish Samples
Bulb: 5x E12 / 120V / 4.0 W / 220 lm 2200 K - 3000 K / warm on dim Buy Replacement Bulbs
Certifications: UL Listed, Damp Rated
Downloads
Key Features
Table Lamp
Sturdy and portable, often the easiest lighting solution.
Ambient Light
Overall illumination, uniformly distributed in all directions.
Made by Hand
Made from natural materials by hand; may exhibit differences in tone and finish.
Wheel-thrown Ceramic
Clay is shaped by hand on a rotating potter's wheel.
Inline Dimmer
A dimmer is placed on the cord, 2 feet from the plug.
UL Listed
Authorized and rated by Underwriters Laboratories (UL), the American Standard for all things electric ⚡️