Luca Wall Sconce, Artist Edition I
An asymmetric sibling to the original Luca Wall Sconce. Made using additive relief sculpting techniques, the Artist Edition's contoured landscape spotlights the uniquely expressive tactility of clay.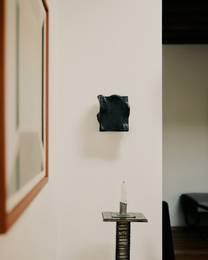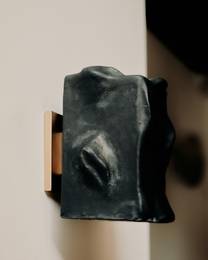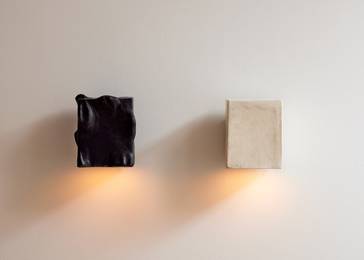 The Terra Collection
A collaboration with ceramicist Danny Kaplan, the Terra series reflects our studios' shared commitment to pairing beauty with utility; tradition with innovation; Danny's organic forms with our signature systems-driven simplicity. Together, we experimented with structure and scale
to create pieces that
embody an ongoing dialogue between artist and material. Our goal: to make the connection between clay and light appear innate, as effortless as friendly conversation.
See all 15 Fixtures
Details
Overall Dimensions: 6 in W x 8 in H x 6 in D
Materials: Ceramic, Brass Buy Terra Ceramic Finish Samples Buy Brass Finish Samples
Bulb: 2x E12 / 120V / 4.0 W / 220 lm 2200 K - 3000 K / warm on dim Buy Replacement Bulbs
Certifications: UL Listed
Downloads
Key Features
Wall Sconce
Fixture is mounted directly onto a wall, and typically hard-wired.
Ambient Light
Overall illumination, uniformly distributed in all directions.
Made by Hand
Made from natural materials by hand; may exhibit differences in tone and finish.
Dimmable
Lighting output can be modulated with an external dimmer.
Damp Rated
Designed to withstand moisture accumulation but not direct contact with water; can be installed in bathrooms.
UL Listed
Authorized and rated by Underwriters Laboratories (UL), the American Standard for all things electric ⚡️