These spheres of mold-blown glass come in three sizes: small, medium, and drrraaamaaaa. It's topped off with a simple metal cap, available in a variety of colors. Bulb included.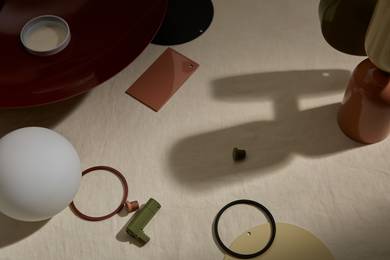 The Orb Series
Vehemently anti-trend and just plain cute. Orb, like many of our other pieces, doesn't focus on complicated details or of-the-moment signifiers. It's a simple way to make a considered design choice for your space.
See all 5 Fixtures
Details
Overall Dimensions: See Tear Sheet for details ☺️
Materials: Glass, Steel, Brass Buy Metal Finish Samples Buy Brass Finish Samples
Bulb: See Tear Sheet for details ☺️
Certifications: UL Listed, Damp Rated
Downloads
Key Features
Pendant
Fixture is hardwired and hangs from the ceiling, suspended by a cord or rod.

Ambient Light
Overall illumination, uniformly distributed in all directions.
Mold-blown Glass
Hot glass is blown into a mold made of clay, wood, or metal.
Damp Rated
Designed to withstand moisture accumulation but not direct contact with water; can be installed in bathrooms.
Dimmable
Lighting output can be modulated with an external dimmer.
UL Listed
Authorized and rated by Underwriters Laboratories (UL), the American Standard for all things electric ⚡️