A minimal ceramic surface mount whose stacked cylindrical forms play with geometry, proportion, and scale. All mounting hardware is concealed within the fixture's chunky, hand-built base, making it sleek enough to work in any space, at no cost to character.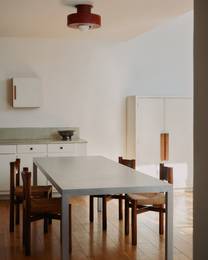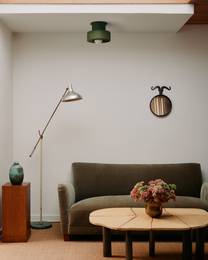 The Terra Series
A collaboration with ceramicist Danny Kaplan, the Terra series reflects our studios' shared commitment to pairing beauty with utility; tradition with innovation; Danny's organic forms with our signature systems-driven simplicity. Together, we experimented with structure and scale
to create pieces that
embody an ongoing dialogue between artist and material. Our goal: to make the connection between clay and light appear innate, as effortless as friendly conversation.
See all 13 Fixtures
Details
Overall Dimensions: See Tear Sheet for details ☺️
Materials: Ceramic, glass Buy Terra Ceramic Finish Samples
Bulb: See Tear Sheet for details ☺️
Certifications: UL Listed, Damp Rated
Downloads
Key Features
Surface Mount
Fixture is mounted onto a wall or directly to the ceiling, usually hard-wired.
Ambient Light
Overall illumination, uniformly distributed in all directions.
Wheel-thrown Ceramic
Clay is shaped by hand on a rotating potter's wheel.
Dimmable
Lighting output can be modulated with an external dimmer.
Damp Rated
Designed to withstand moisture accumulation but not direct contact with water; can be installed in bathrooms.
UL Listed
Authorized and rated by Underwriters Laboratories (UL), the American Standard for all things electric ⚡️