All legs, with a really cute hat 😉. Because the shade's finished inside reflects the light rather than absorbs it, this lamp produces a big glow right underneath it. Bulbs included.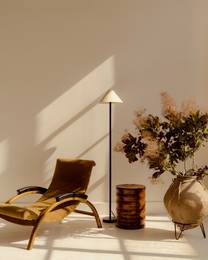 The Tipi Series
Tipi's shape may seem obvious, but it taps into an insight that humans have had forever: cone structures make clever, responsible use of their materials. Shades are accents but also homes for light. And "
thípi
," from the Lakota language, means "they dwell."
See all 4 Fixtures
Details
Overall Dimensions: 12 in Diameter x 53 ¾ H
Materials: Steel Buy Metal Finish Samples
Bulb: 2x E12 / 110-120 V / 4W / 220 lm / 2000-2800K Buy Replacement Bulbs
Certifications: UL Listed
Downloads
Key Features
Floor Lamp
This fixture supports itself, needing no walls or furniture for stability.
Accent Light
Soft but focused light, directed upwards or downwards.
Painted Metal
Wet-coated, achieved by applying liquid paint to solid steel.
Inline Switch
A switch is placed on the cord, 2 feet from the plug.
Customizable
Designed to be adapted; select your color, finish, size, and more.
UL Listed
Authorized and rated by Underwriters Laboratories (UL), the American Standard for all things electric ⚡️