A charismatic floor lamp with a novel sense of scale. Slim but self-supporting, its machined metal frame—featuring a shade and base in mix-and-match colors—gives the impression of being both remarkably dramatic and stunningly demure.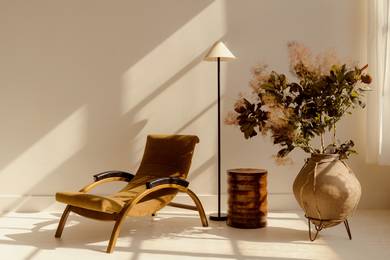 The Tipi Series
Tipi's shape may seem obvious, but it taps into an insight that humans have had forever: cone structures make clever, responsible use of their materials. Shades are accents but also homes for light. And "
thípi
," from the Lakota language, means "they dwell."
See all 4 Fixtures
Details
Overall Dimensions: 12 in D x 53 ⅜ in H
Materials: Steel Buy Metal Finish Samples
Bulb: 3x E12 / 120V / 4.0 W / 220 lm / 2000 K - 2800 K / warm on dim Buy Replacement Bulbs
Certifications: UL Listed, Damp Rated
Downloads
Key Features
Floor Lamp
This fixture supports itself, needing no walls or furniture for stability.
Accent Light
Soft but focused light, directed upwards or downwards.
Painted Metal
Wet-coated, achieved by applying liquid paint to solid steel.
Inline Switch
A switch is placed on the cord, 2 feet from the plug.
Customizable
Designed to be adapted; select your color, finish, size, and more.
UL Listed
Authorized and rated by Underwriters Laboratories (UL), the American Standard for all things electric ⚡️